We're thrilled to announce our company's new name and look: Infusion360 will now be known as Affluens360.
This change heralds a new era for the company, and a renewed focus to help our clients live the abundant life they deserve.
As you may know, I started with Infusion360 over eight years ago and helped transform the once-humble family business into the leading financial services and advisory firm it is today. While proud of our success so far, I'm excited about the future as we develop our services and continue to grow.
Our new name and brand reflect two important things:
Our mission is to inspire, motivate and enable our clients to achieve their goals and make the most of every situation in life; for you to lead a life of abundance.

Our dedicated commitment to using the power of our people and technology to excel, innovate and empower.
I'm sure you'll see this is an exciting milestone for the company, with the new logo representing the connection between your goals and our integrated approach.
To ensure our outstanding customer service continues to meet your needs, we'll be making some improvements to our service agreements.
The team is looking forward to sharing more information with you in the coming weeks and months. Please get in touch at any time if you have any enquiries – our usual contact details will continue to work.
What does this mean for you?
Visit our frequently asked questions.
View our FAQs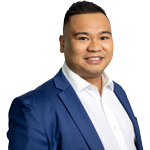 Abraham Aguilan
CEO & Managing Director